How to install Kon-Boot to USB
In order to use Kon-Boot to bypass passwords you need to install it first. Kon-Boot installation is really straightforward. Simply follow this steps: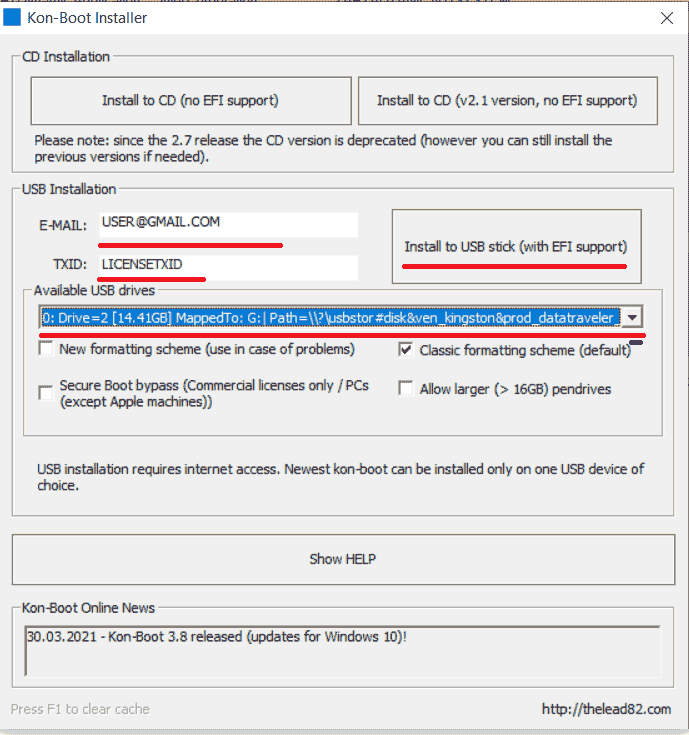 Insert the USB device you want to install Kon-Boot on. Any flash drive such do but we recommend KINGSTON / TOSHIBA with 16GB of capacity. Some older BIOSes does not like larger USB flash drives.
Run Kon-Boot installer available in your package
Fill up your license information (TXID / E-MAIL)
Pick your USB from the drop down list
Click Install to USB
Wait for installation to finish!
Unplug your Kon-Boot USB flash drive
How to bypass passwords with Kon-Boot?
Now when you have Kon-Boot USB ready you can use it to bypass password. Depending on license Kon-Boot can bypass Windows, macOS or both passwords. The routine is simple:
Plug the USB flash drive to the locked computer (the one you want to bypass password on)
Power on your machine
Kon-Boot menu should appear on the screen. If it doesn't please go to your BIOS SETUP (F2 key during boot) and set the first BOOT OPTION to USB
Follow instructions displayed on the screen
Wait for your system to load (Windows / macOS)
Pick locked account, put any password and press enter!
Well done, kon-boot has bypassed your password and you are logged in!
What are the differences?
You have probably seen tools for bypassing passwords before. Truth is most of the other solutions do not bypass passwords at all. Usually they reset the passwords by modifying Windows SAM database. Kon-Boot does not work this way, it is unique and probably only solution out there which can really bypass passwords on both Windows and Mac.
KON-BOOT is only tool right now that can truly bypass passwords without changing them. Other solutions simply modify Windows files and reset Windows passwords - this approach is prone to corrupting Windows internal files. Additionally such solutions are based on Microsoft booting disks, which contain Microsoft copyrighted files. Those files are not redistribute without permission from Microsoft. Unlike such solutions, KON-BOOT does not really on such 3rd party code.
KON-BOOT works with both Windows and Mac systems. Meaning passwords on both Windows and Mac can be easily bypassed
KON-BOOT does waste time on brute forcing or cracking passwords, it simply bypasses passwords in matter of seconds
<